Finance or Lease Your Next Ford Vehicle with Simmons Rockwell Ford of Hallstead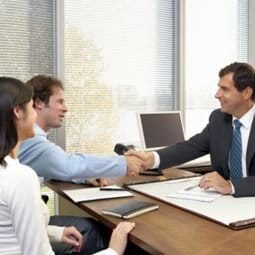 Our Ford finance center, near I-81, is here and ready to help you through your next automotive purchase. We have years of experience in this industry, and that will show at every turn of your next visit. With excellent offers, services, and customer care, we aim to do it all so that you have a successful experience.
Financing Your New Ford
There is nothing quite like driving one of our new Ford vehicles down nearby Old Route 11. Whether it's a new Ford F-150 or a Ford Explorer, these models are sure to exceed every expectation you may have. The only way to further that quality is with an excellent financing experience.
Our professionals are well-equipped to get you the deal you need. We can secure your automotive loan using our industry connections and craft a payment that will fit your budget. This makes financing your new Ford Bronco or Ford Escape near Binghamton much easier.
The Perks of Financing
Financing is one of the most common methods of buying your new or used Ford. This is because it is an extremely beneficial service. One of the main perks that financing gives you is ownership. You are working to own your car through every payment, building equity the entire time. That means you have the freedom to do what you please with your driving habits.
Leasing a Ford
Leasing differs from financing in the fact that you are not paying off the entire amount of your new Ford Expedition. This path comes with monthly mileage limits. That makes leasing an excellent decision for less-than-frequent commuters or those that live in downtown Windsor.
We can also offer a wide range of premium Ford lease deals. These are special offers that allow you to save a fair amount on your next Ford. Our team is constantly working on new deals, so be sure to ask about what we have available during your next visit.
The Perks of Leasing
Customers from here to Deposit love leasing because they get some serious benefits from this process. The first is, of course, comprehensive savings. Due to you not paying the entire amount of your new Ford Ranger or Ford Maverick, you are going to have lower monthly costs. You can even fit a newer model into a tighter budget when deciding to lease.
The lower monthly payments are just the start of these excellent benefits. Another huge aspect of leasing is less responsibility for maintenance, saving you some stress throughout your travels. You can also upgrade to newer models much more frequently than when financing.
Offers and Specials
Our team aims to save you money throughout your visit. To do that, we craft specials that work at every turn of your automotive experience. We offer new Ford deals that bring you excellent models, at even better prices. There are also specials throughout our used inventories near Owego so that you can fit a budget with ease.
Digital Retailing Tools
We know that not every customer has the time to visit our dealership near Montrose. That's why we offer digital retailing tools that you can utilize at home. This list of services includes our online finance application. All of our online services are completely secure, so feel free to get started with complete peace of mind.
Visit Our Finance Center in Hallstead Today
You can find our Finance center off State Route 11. Visit soon and experience all these experts have to offer. You will not be disappointed when shopping for your next Ford Mustang or Ford Escape with us. Our team looks forward to saving you money on your next purchase.